Im Frustrated with Creative Motivation
The pit of frustration, objectivity, subjectivity, and new websites/podcasts
Hello Friends,
Guess what time it is…
The past few weeks have been a stirring time for me. I rarely talk about my day job, but recently it's been filled with extra hours and draining shifts. I work in retail pharmacy and have been leading a charge to roll out the covid vaccine to the public and it's started to get me a little out of whack this week. It's fulfilling work and I'm pretty optimistic, but my creative work has taken a motivational hit. It's been noticeably harder to come home and find the energy to write and design (work that I truly want to do, but struggle to get initiated on when tired).
I was able to take this struggle and turn it into an essay earlier this week.
---
Last Sunday, I shot out a tweet that summarized my week of creation.
I honestly felt really proud and fulfilled from what I had thrown together. It was honestly one of my more fulfilling moments as a creator thus far.
But this "crowning moment" of creative fulfillment did something I wasn't expecting.
It blindsided me like that taxi hitting Will Ferrell in Elf (2nd Elf reference this week).
I expected this week to be equally as fulfilling as my last week, and when It wasn't, I got frustrated.
What I made (7 essays with accompanying illustrations in 7 days) did not take any skill. Anyone could have done it if they set their mind to it, but what got me excited was that I was taking action.
7 blog posts in 7 days was a great personal achievement because it was a hell of a lot better than what I was doing before...which was nothing. But what comes after personal achievements?
Olympic athletes don't get to their competitive level by just striving to set personal bests. They use their personal bests as a method to motivate growth on a big picture level. Improving your personal best on a recurring basis will eventually land you in the top percentage of your craft and seems a lot easier than jumping from 0 to 100.
But what about the days when you don't set a new record?
Athletes can't improve their personal best everyday. They need days to train, grow, strategize, and rest.
Those days can feel like a step in the wrong direction. Like a day without a clear achievement is a day wasted. They feel hard, frustrating, and painful.
But we need those days in order to progress.
Long story short, I'm saying we all need a little frustration in order grow and flourish. We need to come to terms with our expectations and we need to figure out the best way to grow regardless of what our emotions have to say.
---
---
I also wrote this short (FULLY ILLUSTRATED PIECE) that I thought I'd share. Read it, or just look at the pictures. You'll get the gist.
---
You know what really grinds my gears?
When people claim to know the objective truth about the obviously subjective.
I say this as a writer who tackles almost exclusively subjects on a subjective scale and probably am branding myself as a terrible hypocrite more and more with every word I type.
But this is a major fear of mine as a creator.
I fear being guilty of ignoring subjectivity and I hope that fear of ignorance keeps me humble in my pursuit.
So how do I use that fear to "check myself" and hold some personal accountability?
In my experience, creativity typically holds a progression something like this...
Step One: You have something to share.
Whether that be a thought, opinion, skill, or talent...you realize that you have something beautiful to present to the world and you want to show it off. This manifests in whatever art becomes your craft (writing, speaking, painting, knitting, table making, etc.).
Step Two: You want to provide something valuable.
Sharing your creative pursuits is fun and all, but at some point all creatives face a similar barrier. They realize, "I like to make things but why would the world enjoy consuming the things I make? What can I do to provide value to my consumer?"
This is where I see lots of great and driven creators fall victim to the monster that is objectivity.
They feel like they have to provide clear value, so they take what they have at hand (their own experience) and formulate an opinion that will allegedly change their consumers life forever.
But this DIY opinion isn't objective and NEVER should be.
It's formulated off of one person's experience and even if that experience is seemingly diverse and calculated, in the grand scheme of things, it still only represents a fraction of the world's population so small that I won't even try to illustrate it (I'm not a big numbers guy).
Step Three: Go out and share what you're creating.
I'm not telling you to not share your experiences. I think we need more of the world to share their experiences. So many great things have come from a diverse set of people sharing their personal experiences.
But when you get so focused on providing a clear value for your consumer, it's far too easy to zone in on your own experience, and shut out the experience of other people.
So take what you have to say and put it out in the world. It may not seem polished or groundbreaking at first glance, but a little bit of time and a little bit of consistency can uncover a lot of potential.
A wonderful way that you can begin to do this is to acknowledge that you know nothing.
State you're experiences and thoughts as what they are (your personal perspective), and compare and contrast them against the experiences of the world. Let them grow and evolve forever and constantly be on the path of learning.
---
If you've followed any of the links I've posted here to my personal website, you may have noticed the recent renovation/redesign.
I'm far from a web designer but it's WAY more fun to dabble hard at something and get full creative control over it than to outsource, ship, or cookie cutter copy it from someone else.
If you have any interest in checking the rest of it out, click here and let me know what you think!
---
FINAL THOUGHT…
I was on another podcast this week and it was a realllllll doozy.
A new episode is up! Ben Greenman (

@IamBenforReal

) — This Is Creativity: How Digital Creators Make The Internet Better (#42) Spotify:
open.spotify.com/episode/26rPdi…
Apple: eventually YT:
youtu.be/uhAKIl7OieY
Notez:
penguinlatte.blog/greenman
Enjoy, and happy Friday.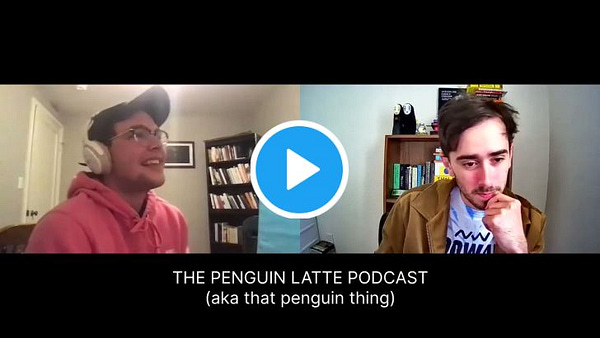 Paul's show is my personal favorite podcast. His interviewing skills and insight are incredible and he brings some of the most down to earth and genuine people on as guests. being ON the show felt surreal. I was like a kid on christmas.
Listen to it here:
---
That does it for this week. Thank you all for reading if you made it all the way to the bottom. I appreciate those select few of you from the BOTTOM of my heart.
I hope you have a wonderful week.
-Ben